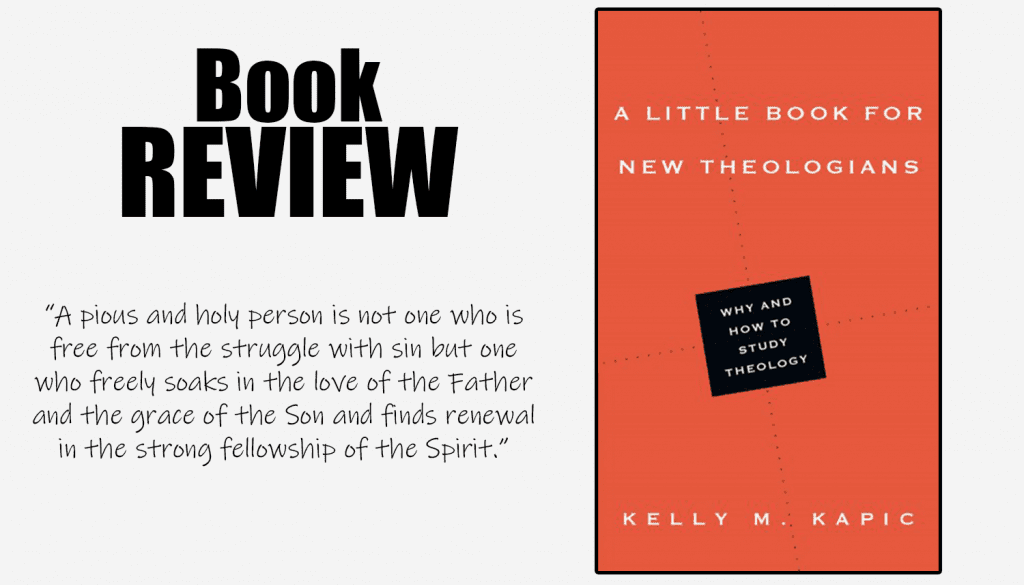 A Review of Where Sin Abounds: The Spread of Sin and the Curse in the Book of Genesis with Special Focus on the Patriarchal Narratives
Kapic, Kelly. A Little Book for New Theologians. Downers Grove: IVP Academic, 2012. 126 pp. Affiliate Link
Introduction
---
A Little Book for New Theologians was written by Kelly Kapic and was published in 2012 by IVP Academic. This book aims to teach new theologians about the importance of applying the information they learn to their lives. Kapic is professor of theological studies at Covenant College. His interaction and position with students make him well suited to write on the disconnect between theological studies and the lives of students who are pursuing seminary.
Summary
---
This book intends to "help new theologians avoid the strong dichotomies of theological detachment" (10). Kapic aims to explain the necessity that theology has to life and life to theology. The book is divided into two sections: the first explaining why theology should be studied (chapters 1–3) and the second looking at the characteristics of good theology and its students.
The first section of this book makes the case that theology is necessary for the life of the Christian. He states that all who speak about God are "engaged in theology" (1). Furthermore, the author references John 4:23 to make the case that Christians must value theology if they are to fulfill that verse. He goes on to show that our relationship with truth through Christ is the only way we can "experience real enjoyment" (24). He concludes by stating that because of both our sin and finiteness, we are limited in our ability to know God but that we should still pursue and grow in our knowledge of Him.
Section two demonstrates several areas where theologians should pay careful attention. Chapters 4–5 address the idea that theology has "no room for cool scientific detachment" and continues to show that life and theology are inseparable and "emotive" (41) yet not without reason.
In chapter 6 we are cautioned to not view the Bible as reference material but as "the blazing Word which is alive and active" (65). This view of Scripture combined with humility and the working of the Holy Spirit leads to repentance. In chapter 8 the author coins the term "anthroposensitive." Kapic defines this as "a refusal to divorce theological considerations from practical human application, since theological reflections are always interwoven with anthropological concerns."
Chapter 9 speaks about the importance of belonging to a Christian community for our theology to develop properly. The author draws out the importance of understanding our tendencies and upbringing that distort our view of Scripture and theology. He states, "One of the best ways to…reduce our blindness is to spend time in the presence of the saints" (96). Kapic also emphasizes the value of not only being part of a local community or a modern community but to also value the insights of Christian community members that have long since died.
Chapter 10 concludes by warning against both "biblicism" (Kapic defines this as picking verses out of Scripture with no care for historical or textual context) (107), and having a theology where Scripture is only used to add legitimacy to your own thoughts. He then states that "…faithful theology and worship always depend upon the Scriptures—in their entirety—as the avenue of God's voice for his people…" (107).
Evaluation
---
This book has several strengths that lend itself well to its goal of creating a connection between theology itself and the life of the theologian. You can see this in several ways: 1) it addresses the non-abstract reasons for studying theology, 2) it addresses real-life issues related to a student, 3) it stays on-topic and in scope.
First, Kapic sticks to topics that are simple and easy to understand. new theologians may enter into a seminary seeking to learn facts and information that will propel them into a higher standing among their peers or to bolster their head knowledge about God. Kapic chose topics that are spoken of clearly within Scripture, such as life in relation to theology, humility, and repentance. This allows the reader to take their focus away from what may seem like grander theology to some of the most important yet basic teachings within the Bible—causing a sense of humility in most.
Secondly, Kapic's chapter on the inseparability of life and theology is one of the most important chapters in this book. A common issue seen in the life of Christians, especially young/new theologians, is a disconnect between what they know and how they live. Paul writes that "All Scripture is breathed out by God and profitable for teaching, for reproof, for correction, and for training in righteousness" (2 Tim 3:16 ESV). This verse shows that, aside from knowledge about God and salvation, Scripture is heavily focused on bringing our lives into order according to God's desires (c.f. Jam 1:22; Rom 2:13; Luke 11:28.)
Lastly, the author keeps restraint in the scope of the book, remembering that his goal was to make a little book for new theologians. Every chapter is very specific in what it tries to accomplish and stays within those boundaries. Certain topics are particularly susceptible to a "wrangling of words" (2 Tim 2:14) such as his chapters on "Faithful Reason" and "Tradition and Community," but Kapic is careful to not address every objection to his theological points which keeps the book from becoming overloaded with information that is unnecessary for someone just beginning their academic journey.
While the author does spend time in chapter 10 on the importance of Scripture, God's self-identification with Scripture, our resulting dependence upon Scripture, and the purpose therein, he never clearly addresses the infallibility nor inerrancy of it. Kapic does come close when making the assumption that the reader understands that "Scripture is authoritative, trustworthy and life-giving." (106) This sort of assumption may be well suited for a more theologically mature reader, but it is something that should be addressed more directly considering his target audience of new theologians. Since God self-identifies with Scripture (c.f. John 1:1; John 1:14; Rev 19:13), the readers view on its inerrancy and infallibility directly relates to how they view those attributes in God.
Conclusion
---
This book does not aim to be a systematic theology and I am glad that it does not. Kapic's book is easily digestible and addresses topics that many young theologians, and Christians, need to be reminded about. I would recommend this book to anyone pursuing theological study or a ministry leadership position.