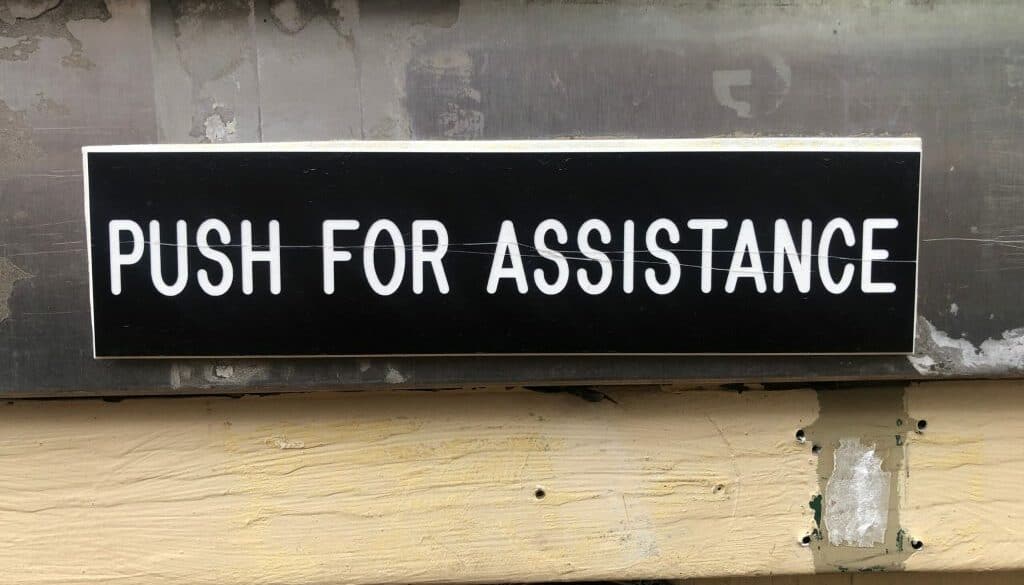 On the next day again John was standing there, and two of his disciples, and looking at Jesus as he was walking by, he said, "Look! The Lamb of God!" And the two disciples heard him speaking, and they followed Jesus. And Jesus, turning around and seeing them following him, said to them, "What do you seek?" And they said to him, "Rabbi" (which means when translated "Teacher"), "where are you staying?" He said to them, "Come and you will see!" So they came and saw where he was staying, and they stayed with him that day (it was about the tenth hour).

Andrew, the brother of Simon Peter, was one of the two who heard John and followed him. This one first found his own brother Simon and said to him, "We have found the Messiah!" (which is translated "Christ"). He brought him to Jesus. Looking at him, Jesus said, "You are Simon the son of John. You will be called Cephas" (which is interpreted "Peter").
This is an interesting set of verses that seems to state two things at once: the world does not and cannot recognize Christ and that there is a group of people who can recognize Him. With the broad language it would seem that the default state of man is that of rejection, while there is a narrower group of people who, somehow, are able to see Christ for who He is. So here is the big question: If people's sin gets in the way of recognizing or receiving Christ, how are they (we) to be saved? How are we to become children of God?
John answers this by talking about birth or being born-again. There are 4 types of birth listed, 3 that cannot cause you to recognize and receive Christ and 1 that can. These type of birth are: natural, the will of flesh, the will of man, and the will of God.
Natural birth is the actual process by which we come into the world, child bearing. John is saying that genetics, family history, race, status, wealth, does not play a role in becoming a child of God. Christian, there is nothing about who you came from that can bring you any closer to God. No amount of physical luck in this life will alter your salvation. No earthly change can make you better able to be in relationship with Christ. When it comes to being a child of God, you have nothing to bring that will impress Him and make Him more apt to love you.
Birth of the will of flesh speaks about your own self-determination. You cannot will yourself to be born again. There is no amount of work you can do that will cause you to be able to see Christ for who He is. Ultimately there will come a time where, as someone who is born again, you will have choices to make, but the act of being born again is not something you can will into existence. Flesh is presented in Scripture are being anti-Christ, and your flesh can't choose to be something completely opposite of what it is, no more than a toe choose to become an eye.
Birth of the will of man is birth through the determination of others. Christian, no amount of altar calls, evangelism, and begging can save you, nor can those things save other people, those things do not cause people to be born again. We cannot will salvation upon others, nor can they will it upon us. There is an important distinction though, these acts are methods that Christ uses to spread His message. They are important and necessary to spread the Gospel, but they do not save people. Romans 10:14-15 show the necessity of preaching the message. People must hear what they are to believe, but being born again is not directly caused by the will of the preacher.
Lastly is the only form of rebirth, and the only form that works. The people who believed in His name were people who were born of God. The only form of birth that can cause us to recognize Christ, that can cause us to receive Christ, that leads to being born again, is that caused by God. These people, who God chooses and who God adopts, gain the right to be called His children.
Christian, apart from God's goodness and kindness, you are without hope for salvation. Your earthly circumstances, your will, the will of others, will not and cannot save you, only God can. Sin gets in the way, it make it impossible for us to recognize and receive Christ. But His goodness keeps you, His goodness sustains you, and His love chooses you. Christ changes our sinful hearts into hearts of flesh, capable of recognition and receiving. Like a foster child who is chosen and loved by adopted parents, we now have the right to be children of God, only infinitely more amazing.